Featured on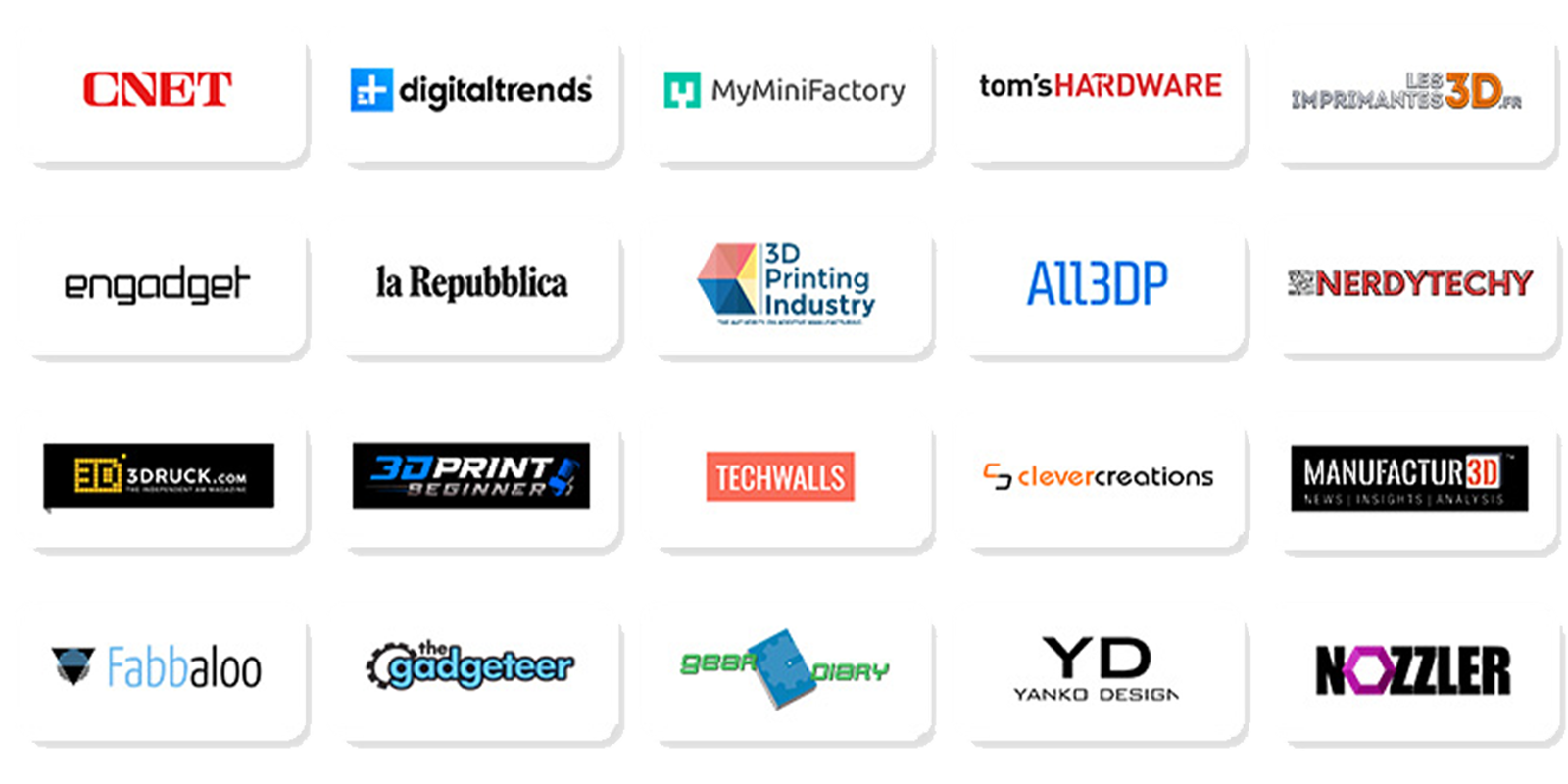 Hands On With The 3DMakerPro Seal 3D Scanner
I was really impressed with both Seal 3D scanners. They are fairly easy to use and produce incredibly good 3D scans, if the operator is skilled and subject is suitable.

3DMakerpro Seal: Unveiling the Future of Scanning
Imagine capturing every detail, every color, every nuance. That's the Seal for you. It's like having an artist's eye in the palm of your hand.

Test du scanner 3D SEAL 3DMakerpro
Sa taille et sa facilité d'utilisation sont pour moi 2 avantages de poids sur ce scanner.
Enfin, la lumière pulsée permet d'obtenir une très bonne qualité de texture.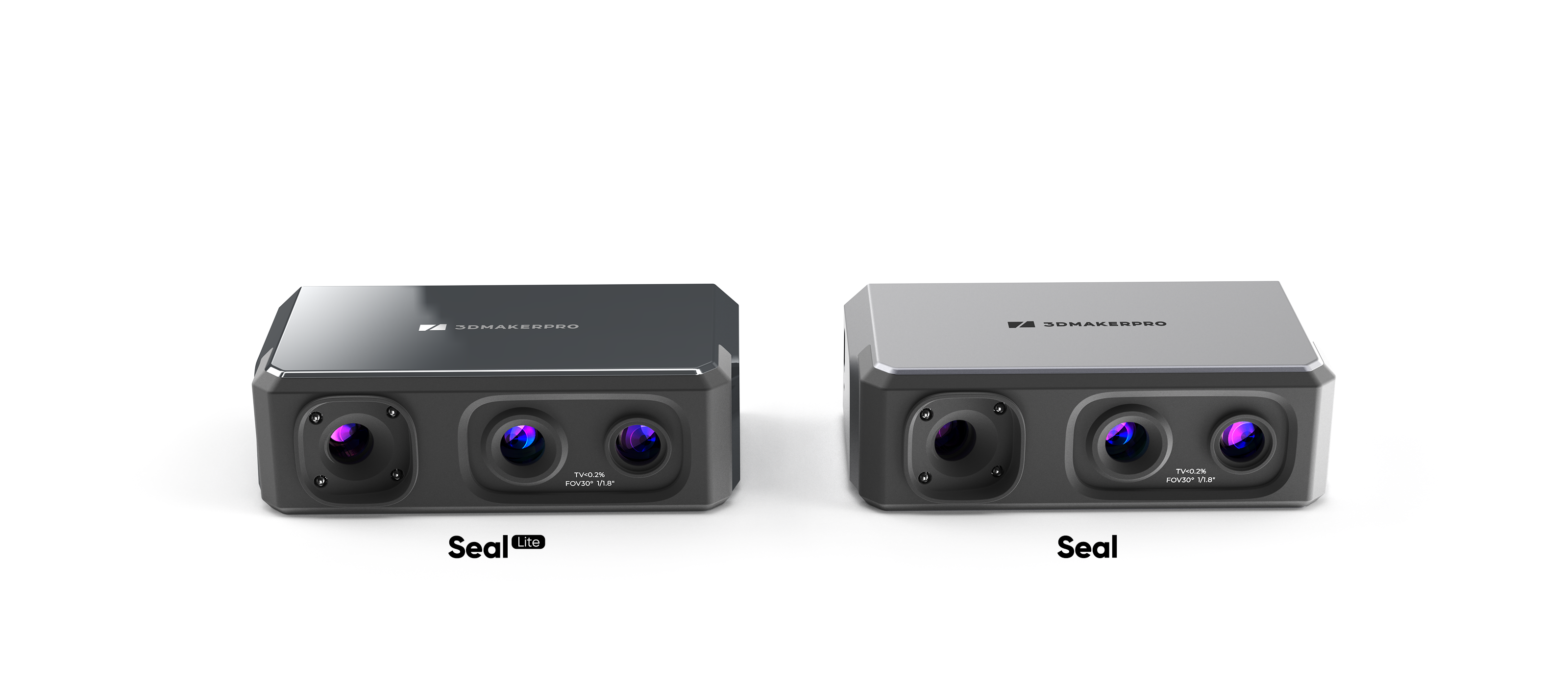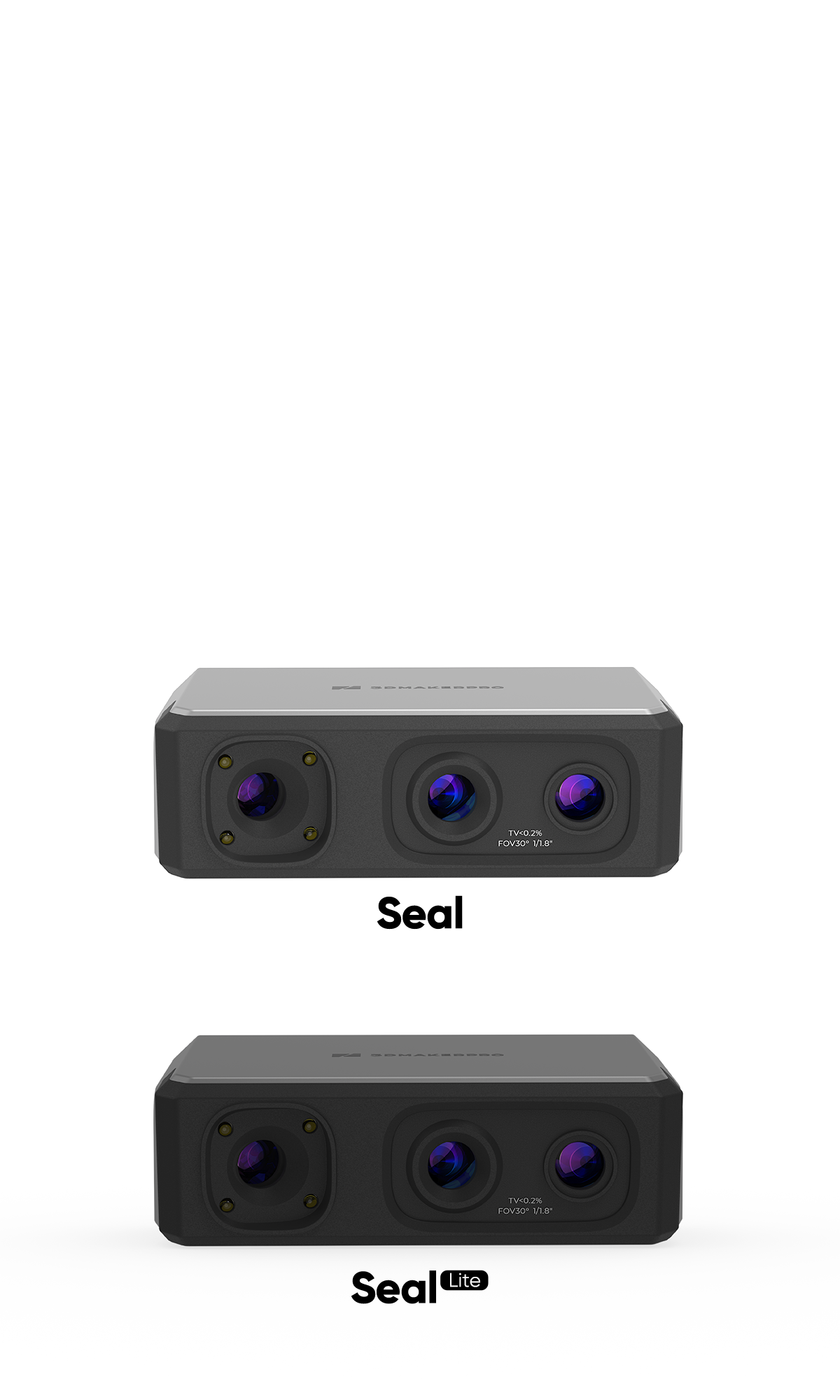 -- Part 1 --
Seal & Seal Lite
Introducing SEAL and SEAL Lite, 3DMakerpro's next-generation consumer-grade scanners. With groundbreaking optical solutions, they set a new standard for 3D scanning and redefine the price of consumer-grade scanners!
Blue Light Encoded Structured Light
5x More Detail Per Unit
With its shorter wavelength (400 to 500 nano), it projects refined structured light, achieving 0.01mm accuracy. This advanced technology captures even the tiniest dents, textures, and edges, providing unparalleled detail in high-resolution 3D models.
0.01mm
Accuracy
Achieve exceptional 0.01mm accuracy for precise object reproduction.
*Seal Lite with 0.02mm accuracy.
0.05mm
Resolution
Experience impressive detail with a 0.05mm minimum point spacing.
*Seal Lite with 0.07mm resolution.
24-bit
Color depth
Texture camera captures lifelike model texture with 16,777,216 colors.
*Seal Lite with a monochrome texture camera.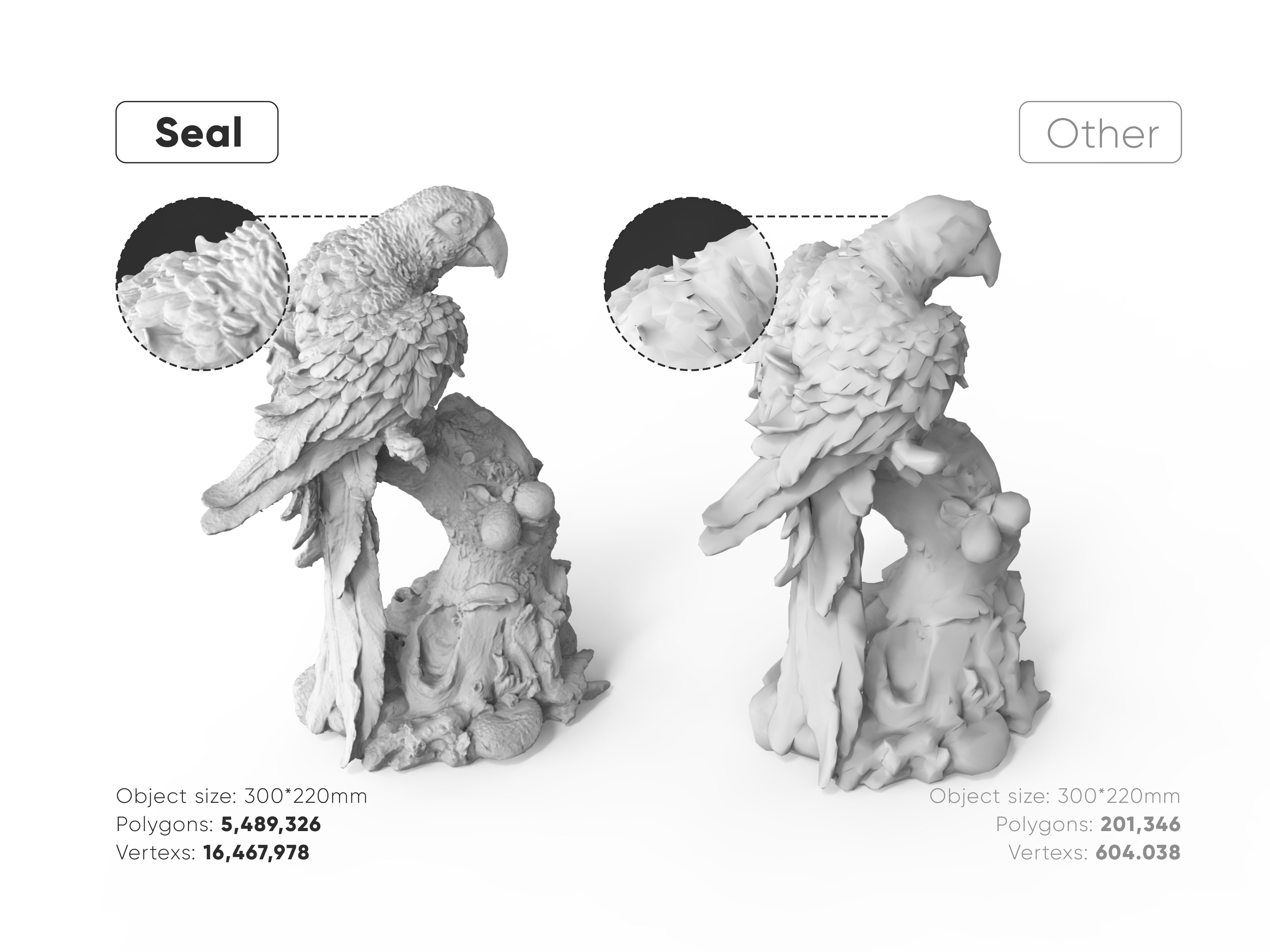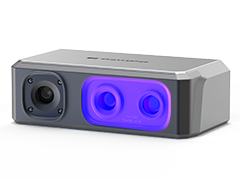 Incredible Precision
Precision Blue imaging system delivers 0.01mm accuracy and up to 5x the resolution of comparable scanners. Get highly detailed models with ease.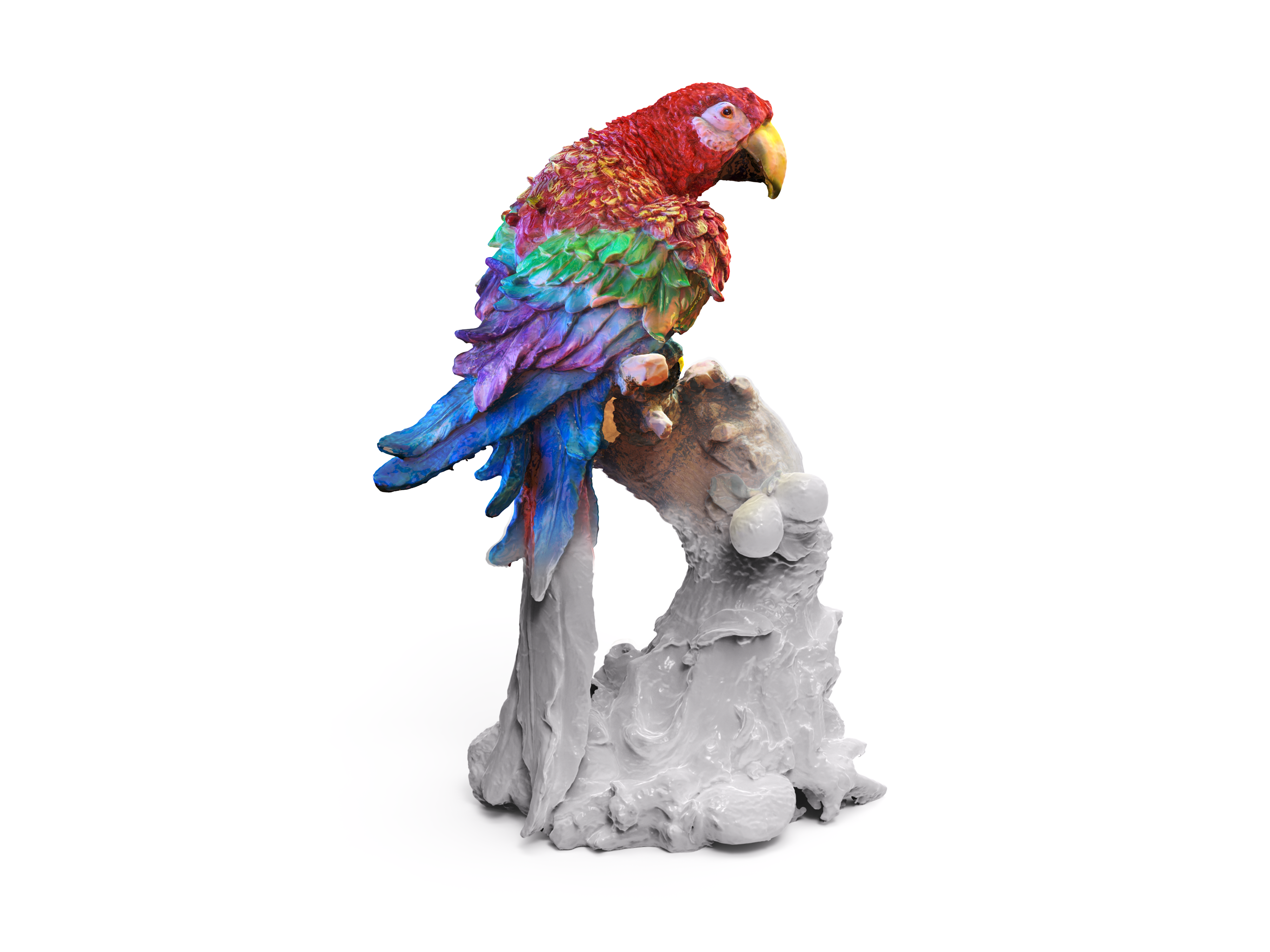 Vivid Textures
24-bit color camera adds vivid colors, contrast, and intricate details to models.
Smooth Scan
Smooth scanning with Seal's advanced optical system and JMStudio algorithms.
Anti-Shaking Lenses
Optical stabilization filters out unwanted jitter for smooth, continuous scanning.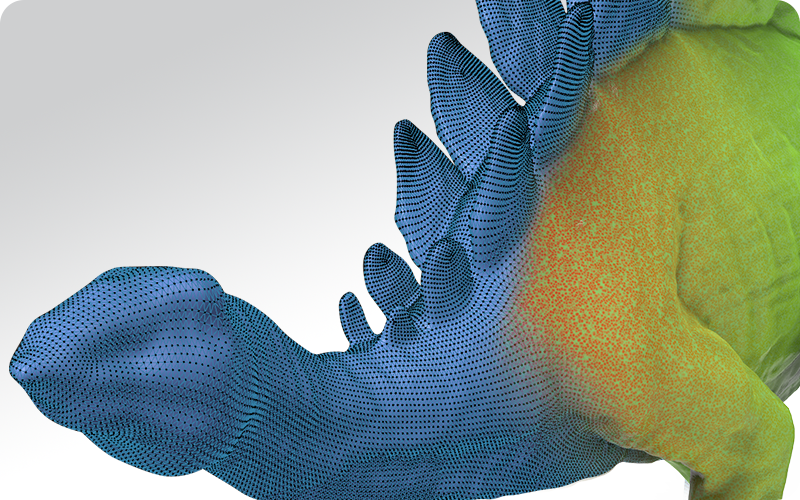 Lightning-Fast Speed
Collecting 100,000 points per second, it swiftly scans body parts and more.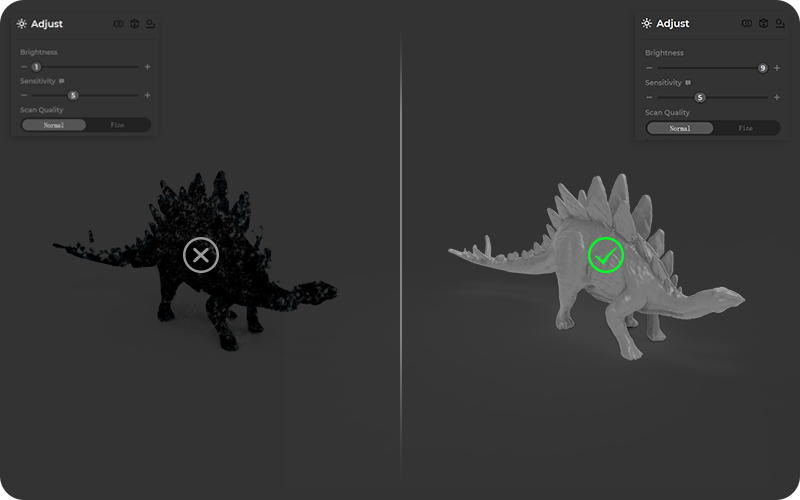 Brilliant in Darkness
9-level light adjustment for versatile scanning in varying colors, materials, and lighting conditions.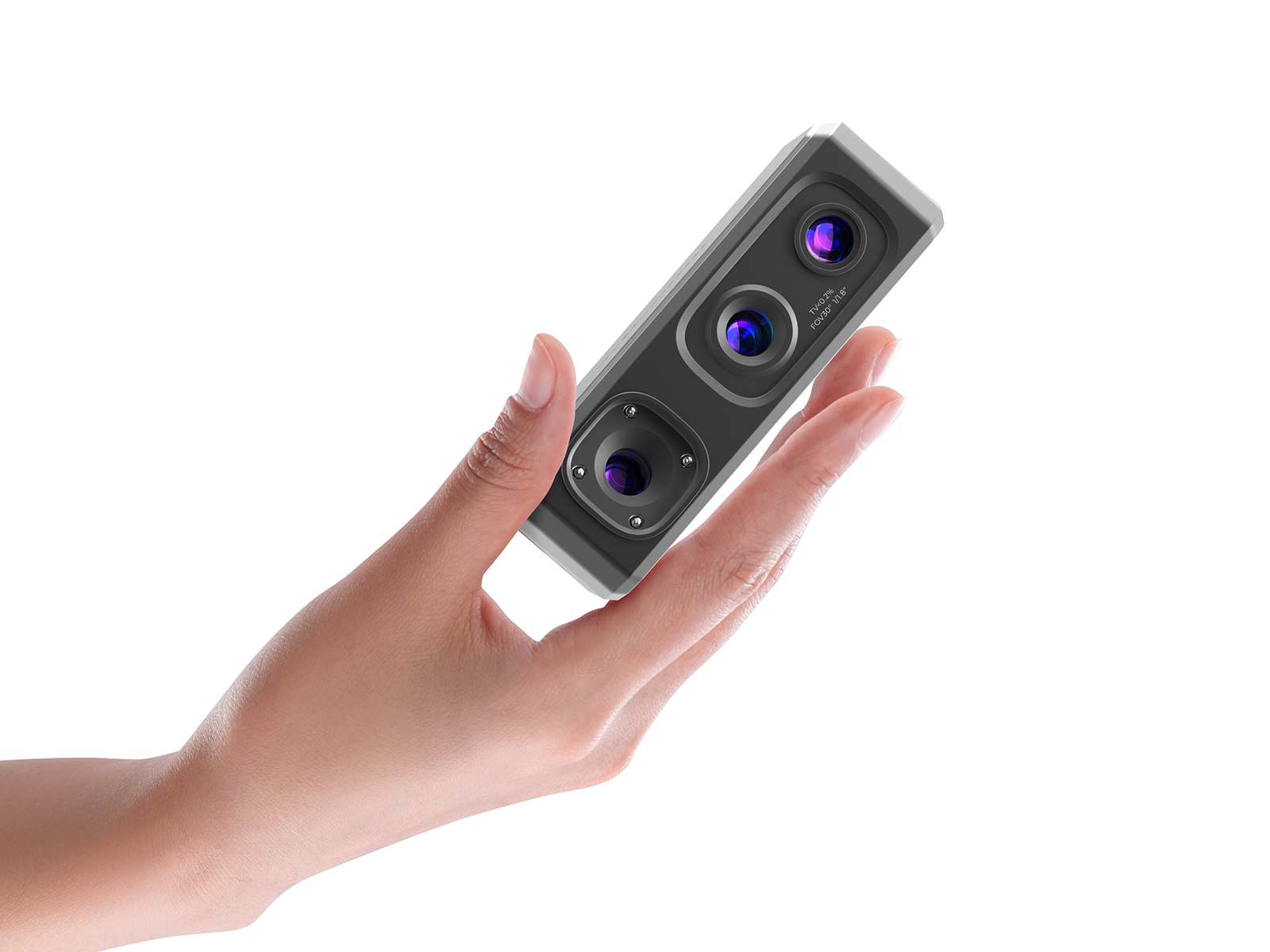 Light & Quiet
Take Seal's 200g lightweight design anywhere you need to scan! Experience smooth and quiet scanning with excellent heat dissipation and no fan noise.
BUY NOW
-- Part 2 --
Intelligent Kits
These intelligent kits mark a significant stride in the 3DMakerpro Smart Platform. Our aim is to provide users with smart, automated, and highly customizable suites that elevate the performance and capabilities of the scanner to their fullest potential.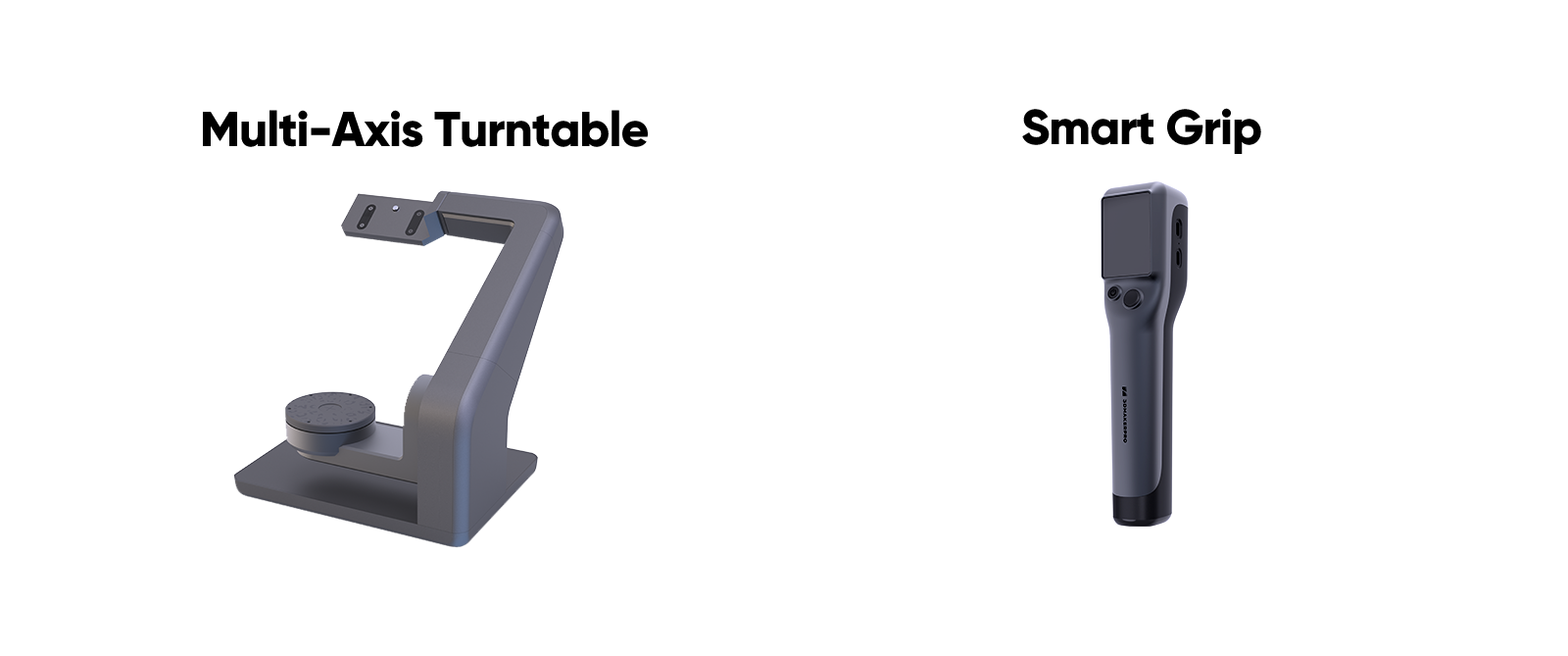 Smart Grip
Smart Grip connects Seal to your smartphone, enabling on-the-go scanning.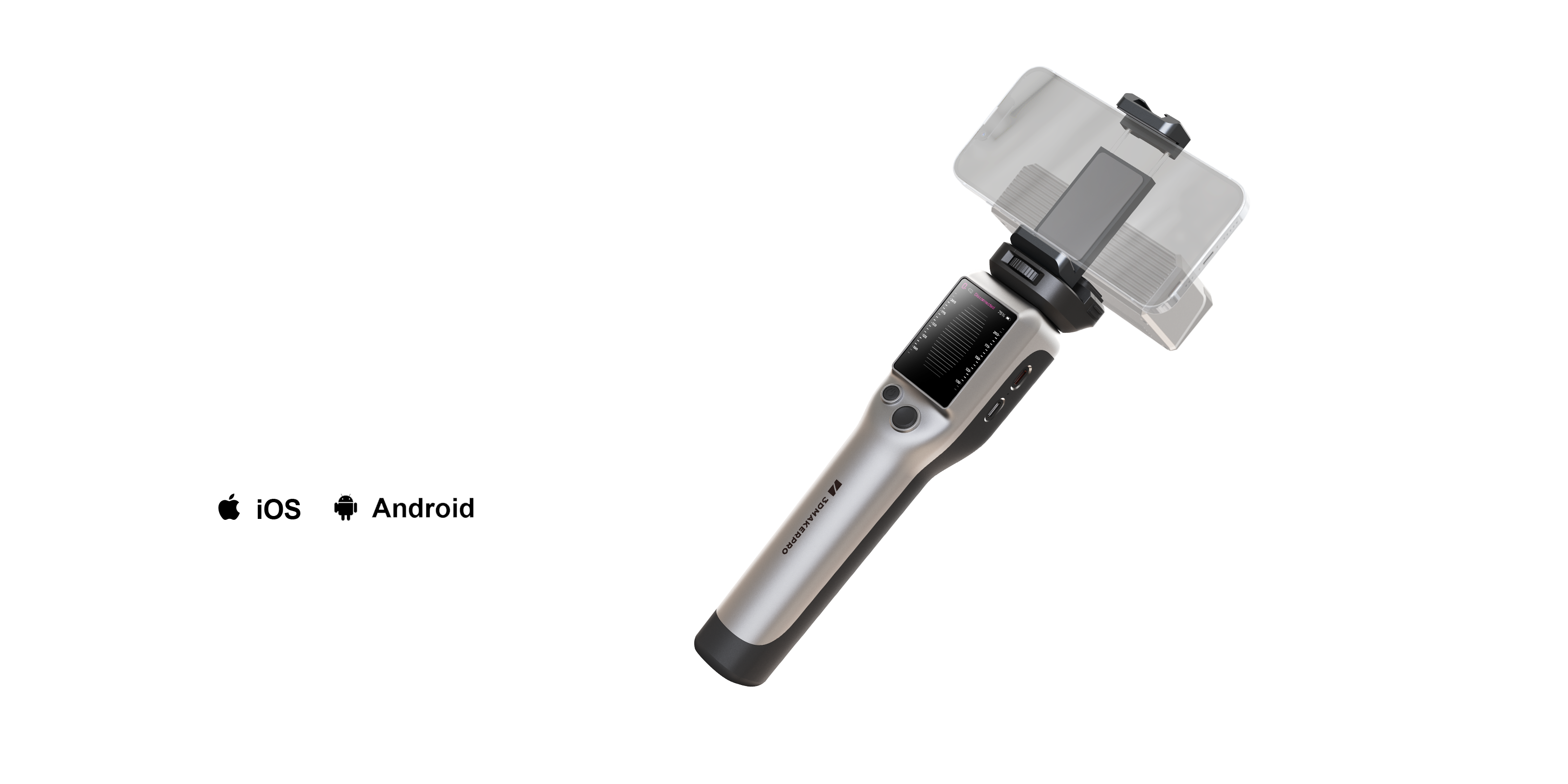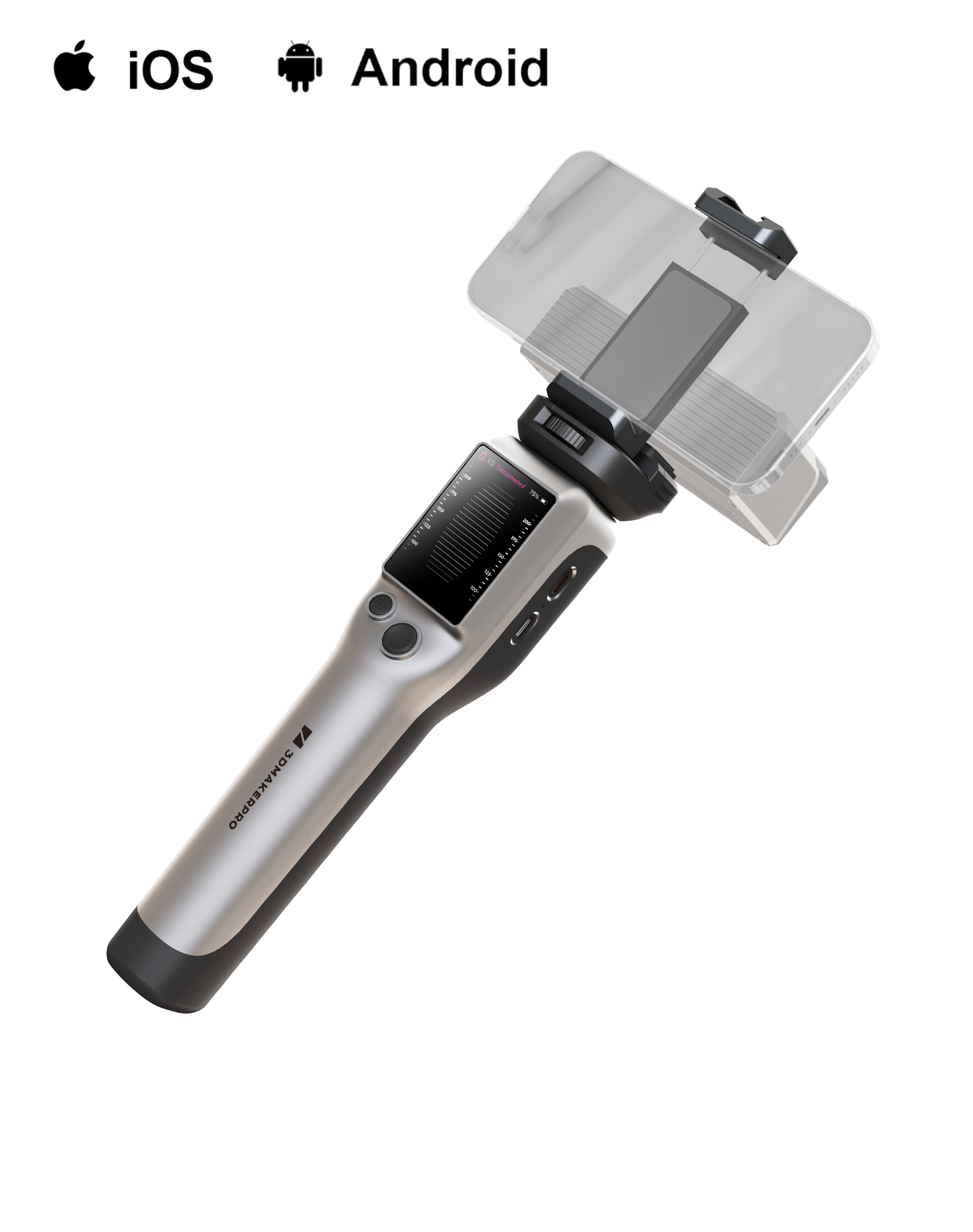 Scan Distance Indicator Easily adjust your scan range.
One-click scan button Quickly start and finish scans.
10,000 mAh battery Fully charged for 240 minutes of continuous scanning, or approximately 100 scan sessions.
Multi-Axis Turntable
Easily scan objects with automation that lets beginners scan like a pro, and advanced customization with script editing for experts.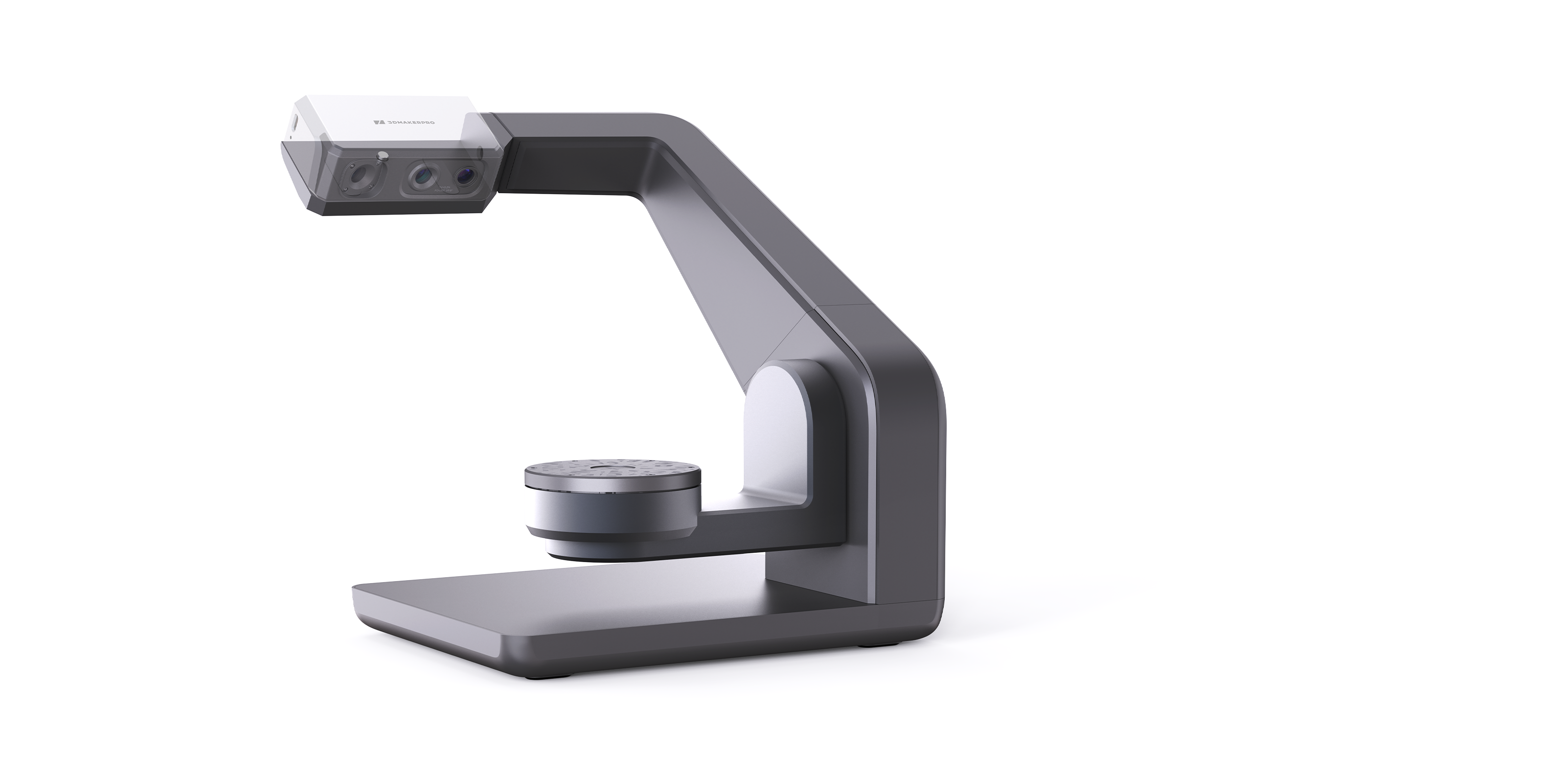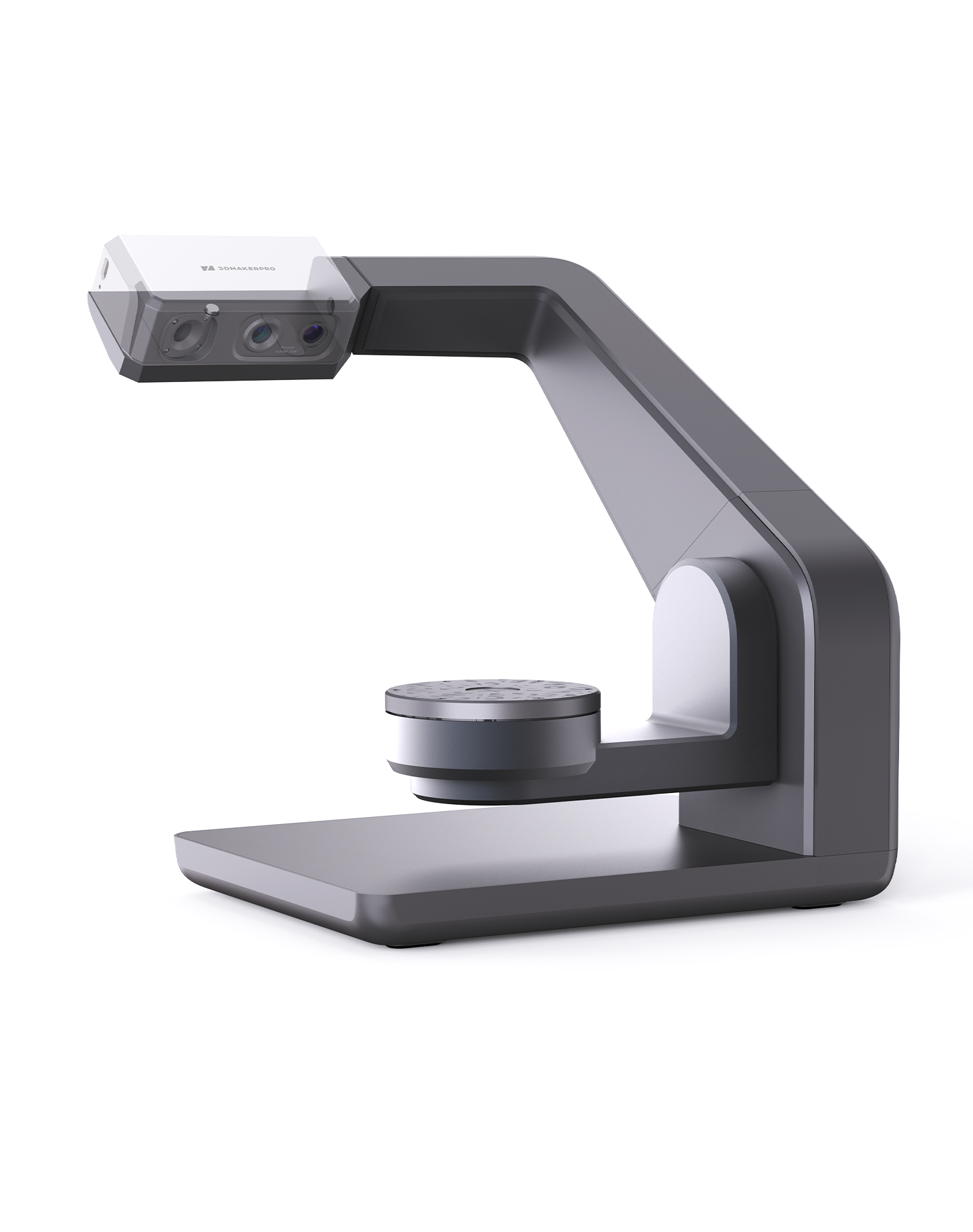 Bluetooth Connectivity Sync with JMStudio via Bluetooth for seamless interaction with the scanner and increased portability.
90° Swivel Arm Position the top and part of the bottom of items toward the scanner for complete 3-sided scanning.
Customizable Fixture The scanning platform has 6 screw holes, allowing you to install a DIY fixture (3D print files to share after launch) or use compatible parts to secure objects from 10-100mm in size.